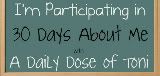 I came across this meme from a good friend and I thought I would join up for the month! It started on August 2nd so I am going to do 3 days in one post :)
Day 1 Favorite Song
Oh that's going to be hard because there are a lot of songs I LOVE! How on earth can you pick just one song out of the millions?
God Gave Me You by Dave Barnes or Blake Shelton either version is great to me... Ask me this question in a week and my song of choice will have changed of course!
Day 2 Favorite Movie
Shawshank Redemption... Hands down! I could watch this over and over and over :)
Day 3 Favorite TV Show
Jeopardy!!! No kidding really...But I like it ;) Honestly though this is really hard because I'll admit I watch WAY too much TV which is why we got rid of cable in the first place.. My choice would have been Lost, but since that's over now I'd have to say The Mentalist!
Link up because I want to know more about you!!