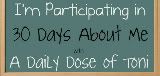 Day 22 Favorite Websites!
OOOOOOHHH this is definitely a great day to link up! I can't wait to see if I can find new sites that I can enjoy :)
Here are my favorites:
Amazon
Vintage Pearl
if you haven't seen this amazing womans jewelry you need to go RIGHT NOW!
HomeSchool Freebie Of The Day
even though I don't homeschool yet, they have great resources that are just for fun :)
Kraft Recipes
simple yummy recipes for dinners you'd actually cook
No Greater Joy
search this site, they have great biblical stuff on marriage, child training and of course the bible itself!
Money Saving Mom
I am sure there are lots more, but that's all I can think of this morning! :) Have a wonderful day!