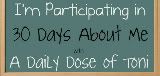 Day 21 A recipe I Love
Food! I love food... obviously ;)
As fall being my favorite season I am going to share a fall related recipe I love! So simple and soooooooo yummy!
Pumpkin Spice Cake
1 package spice cake mix
1 cup water
1 cup canned pumpkin
1/3 cup oil
3 eggs
3/4 cup chopped walnuts
8oz cream cheese
1/3 dark brown sugar
1 cup thawed cool whip
Cake:
Heat oven 350*
Beat first five ingredients in a large bowl with mixer until well blended.
Stir in nuts. Pour into 2 round pans. Bake 25-30 minutes depending on your oven. Time always varies even in my oven so watch it closely ;) Cool completely!
Frosting:
Beat cream cheese and sugar in a small bowl until well mixed. Add cool whip and mix well...sometimes I add more cool whip if it becomes too thick. Spread onto first layer put cake together and then spread over the rest of both cakes. Keep frosted cake in refridgerator!
Tastes just like a pumpkin roll without all the hassle of making one... I don't know if it's really a hassle because I have never tried to make a pumpkin roll, but it look intimidating!