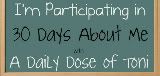 Day 16 Let's Talk Crazy
Something or someone we have done crazy stuff with!
There was a time long ago that this girl (ME) did things totally out of character for the ME now...
When I was a sophmore in High school we had a softball sleepover at one of the fellow teammates house. We had the bright idea that when it got dark we would go through town and "steal" things... We went to Burger King and took their rugs, went through peoples trash, took things off peoples porches etc... We stopped at our softball coach's house and played the knock and run game. So ridiculous right?!?!!? LOL Then at the end of our time running the streets like CRAZY kids we stopped at our high school and hopped the fence of the stadium and took the hurdles and proceeded to dump those and all of our stolen loot in the middle of the lawn... No one ever knew who did it...At least I don't think so, but not to long after that our school installed security cameras!!!
We thought we were so "cool" back then, but as I'm typing all this out it seems so silly! What possessed us to do that is beyond what I remember of that time. I'm not sure my parents even know about it, they are going to get a good laugh when they read this!
Here is a recent picture of me and one of the fellow thieves! She was my best friend then and now :)