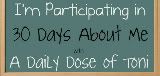 Day 13 Someone Or Something That Has Impacted Your Life
My number one would be Jesus. If not for Him and what He did for me I would not be who I am today. Five years ago I accepted Him into my life and into my heart. I am now a new person and so thankful for what He has done for me!
There are so many others though that have made an imprint on my life. My husband and my girls are the greatest in every way. Old friends and acquaintances who have come in and out of my life have left things to grow toward and things to stay away from. I am so thankful for these people.
Day 14 Somewhere You'd Love To Travel
I want to leave the U.S. one day. Honestly there are so many places I want to see for specific reasons....
Italy for the food
France for the love
Germany to see what's left of the concentration camps
Ireland for the countryside
Israel for obvious reasons
Greece to see the houses sticking out of the mountains or hills whatever they are...
Scotland to hear them talk and see the castles
Australia just because it's far away!
Last some place whether it be in India/Africa or Papua New Guinea to do a missions trip :)