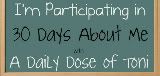 Day 15 Describe/Show Your Dream Home
Well I will have to say this is my FAVORITE day so far! I am such a dreamer... My imagination runs wild all the time!
To begin I want a farm house! I really big old-fashioned farm house or one of those plantation houses in the south. I want at least 10 acres with 5 of thoses wooded. It will
have
to have a wrap around porch no exceptions on that one! I want 5 bedrooms (one for each of my girls, one for Chris and I and one to use as a library with couches and no technology allowed). I want a living room, dining room, and a sitting room with the original woodwork. I want a big kitchen with an island so my family can chat with me while I cook. I want hardwood floors (not laminate actual wood planks) throughout the house except in the bedrooms. I would love to have a master bathroom with a stand up shower for 2 ;) and a huge garden tub to relax in!
I think these are very close to what I was thinking in my head....
As for the outside, I want a 1/2 acre - 1 acre garden. I want a mini seperate garden for wild flowers to grow at random. In the woods I want trails for 4-wheelers because well we LOVE 4-wheeling! Big over sized rocking chairs on the porch where we can sit and sip sweet tea and lemonade! AHH doesn't that just sound amazing!?!?!??!?!